E.O.T. Crane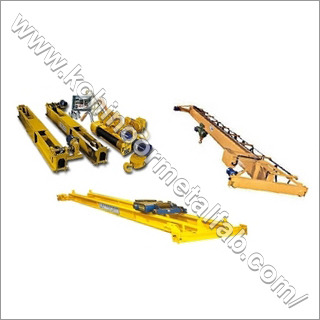 E.O.T. Crane
Price And Quantity
Product Specifications
Product Description
EOT Crane
stands for Electric Overhead travelling cranes. This is the most commonly preferred EOT crane that is usually used in load lifting and shifting. They have the parallel runways and the gap is spanned by a travelling bridge. The hoist is mounted on this bridge. These cranes can be operated electrically.
EOT CRANE CONFIGURATION
Under Running (U/R)
Top Running (T/R)
EOT CRANE WORKING PRINCIPLE
There are three working movements of EOT Crane- crane hook up and down lifting, trolley lateral movement and crane long travelling longitudinal motion.
The motor exhibits a driving force of the hoisting mechanism. This transmits the power to high-speed shaft end. The ring gear transmits the driving force and then with the help of pulleys and wire ropes the crane hook is driven up and down. Similarly, the half gear coupling, its joint and compensation shaft will help in rotating trolley wheels.
Under running cranes
Under Running or under slung cranes are distinguished by the fact that they are supported from the roof structure and run on the bottom flange of runway girders. Under running, cranes are typically available in standard capacities up to 10 tons (special configurations up to 25 tons and over 90 ft. spans). Under hung cranes offer excellent side approaches, close headroom and can be supported on runways hung from existing building members if adequate.
The Under Running Crane offers the following advantages:
Very small trolley approach dimensions meaning maximum utilization of the building width and height.
The possibility of using the existing ceiling girder for securing the crane track.
Following are some limitations to Under Running Cranes
Hook Height Due to Location of the runway beams, Hook Height is reduced
Roof Load The load being applied to the roof is greater than that of a top running crane
Lower Flange Loading of runway beams require careful sizing otherwise, you can peel the flanges off the beam.
TYPES OF EOT CRANES CATALOG
There are various models of EOT cranes available in the market. If you want to know more about these types of cranes, their specifications and decide which one among them is your right choice, just download the catalog. It has everything you want to know about EOT cranes.
EOT Crane Catalog
Double Girder EOT Crane Catalog
Single Girder EOT Crane Catalog
Jib Crane
HOT Crane
MCPB Crane
Electric Wire Rope Hoists
Trade Information
Asia Australia Central America North America South America Eastern Europe Western Europe Middle East Africa

All India